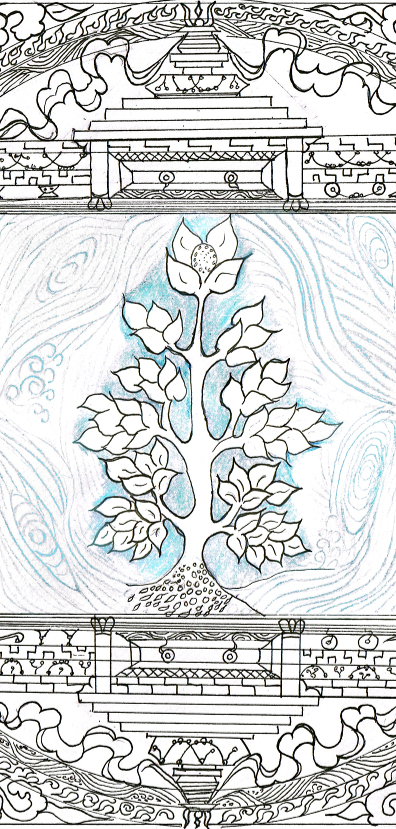 MA GYÜD - Bön mother Tantra
Mandala offering, removing obscurations - and other basic practices from the Tharlam Chaper of the Ma Gyüd: Teachings by Lama Sangye Mönlam in Shenten Dargye Ling, France, as well as online (zoom), June 9-12, 2022.
Language: Tibetan, interpreted into English and other languages. Further information and registration on the website of Shenten Dargye Ling
In 2022, Lama Sangye Mönlam's comprehensive course of Ma Gyüd teachings covers the last part of the "way of escape", the Tharlam chapter of the central text of the Ma Gyud "the sun of compassion", with Milu Samleg's commentary (Guru Nontse's terma). This is "sbyin pa'i thig le", the thigle of generosity (tigle 29) which contains the details on four kinds of mandala offerings: outer, inner, secret, very secret (and, actually, there is a fifth one even more secret).
Lama Sangye lags will teach all the appropriate mantras (that are only named, not stated, in Milu Samleg's commentary) in full, as well as the seed sylables and details of visualization practices. Here he also draws on material from the "way of accumulation" chapter (tshog lam), tigle 14.
Time permitting, Lama Sangye lags will also teach two practices that were only mentioned briefly in last year's teaching: the short jinseg (fire offering) and the practice of clearing obscurations "dribsel". This is a powerful ritual involving visualization of the many Ma Gyüd deities on a special mandala and recitation of the ritual's verses and mantras to a special "medicinal" melody. This ritual is part of Lama Sangye's own regular practice.
Lama Sangye will comment on the text of Tharlam (from Guru Nöntse's terma) line by line and this is a precious opportunity to get involved with this fascinating text. We are planning to prepare an English translation of the chapters of the Ma Gyüd text in the order that Lama Sangye teaches them. Lama Sangye teaches in Tibetan and will be interpreted into English.
Prerequisites: Lama Sangye Mönlam's Ma Gyüd teachings are suitable for beginners and new students as well as for advanced practitioners, including those who have already received Ma Gyüd teachings. As most of us have experienced, with profound texts such as the Ma Gyüd, one understands the same teachings on a new level upon every encounter with them, and always learns something new. The teachings in 2022 continue the series of teachings in Shenten that Lama Sangye began in 2019; but each teaching is self-contained, and new students are welcome to join.
Further teachings by Lama Sangye Mönlam here.
This teaching takes place on-site in Shenten Dargye Ling, and, also, the online teaching via zoom is organized by Shenten Dargye Ling. (At Yeshe Sal Ling, we do not have access to the zoom account of Shenten and cannot give any assistence with registration.) Please direct all practical inquiries to Shenten. For inquiries about the content of the teachings, and only about the content of the teachings (not about registration) use: contact@yeshesalling.org Registration on the website of Shenten.