Click here for Geshe Gelek Jinpa's biography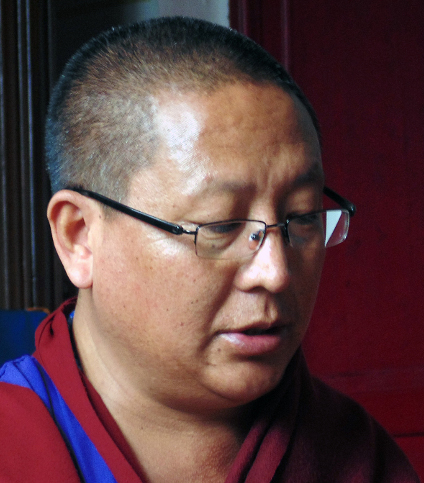 Geshe Gelek Jinpa's Teachings in Europe and Southeast Asia 2014
Geshe Gelek is a member of the faculty of the dialectic school of Triten Norbutse and Khenpo of Shenten Dargye Ling. In most years he finds time to give Dzogchen teachings (in English) in different places in Europe. In 2014, Geshe Gelek teaches Gomdra (meditation school) in Shenten Dargye Ling Sept. 5 - Nov. 13 (registration closed).
April 9-21, 2014; Mogyud - experiental instructions from the female lineage of Yetri Tasel; Milano, Italy. Contact: lucviolini@yahoo.com (Luca)
May 9-11, 2014 Fifth chapter of Gyalwa'i Chagtri (on integration with the Natural State and Bardo practice) and Trulkhor; Dolianova (Cagliari) Sardegna, Italy. Contact: simonettacisci@gmail.com (Simonetta)
November 21-23, 2014 Last chapter of Gyalwa'i Chagtri; Pozzuoli (near Napoli), Italy. Contact: liamait@yahoo.it (Lia)
November 26-30, 2014 Third chapter of Gyalwai Chagtri (Introduction to the Natural State); Höfen, 91460 Baudenbach, Germany. Contact: si.beuerle@gmx.de (Simone)
December 5-7, 2014 Ngöndro from Gyalwa'i Chagtri (English at bottom of page); Helsinki, Finland. Contact: annemariasuikkari@gmail.com (Anne-Maria)
December 19-23, 2014 Teachings in Singapore Contact: contact@yungdrungtengyedutsog.com Phone: +65 98366633
December 27 Teachings in Kuala Lumpur, Malaysia Contact: info@thevioletflamekl.com Phone: +60 3 20959868
Organizers, please send announcments of Geshe Gelek's teachings to tinyflame@rediffmail.com
Announcements of bygone teachings for archival purposes: 2013, 2012, 2011, 2010.