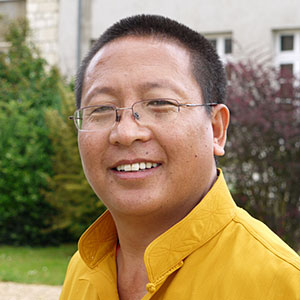 Geshe Gelek Jinpa's European (and Mexican) Teaching Schedule 2013
Geshe Gelek usually teaches in the dialectic school of Triten Norbutse. In most years he finds time in Spring to give Dzogchen teachings (in English) in Europe. Here is Geshe Gelek's teaching schedule in Europe in 2013. For Geshe Gelek's teaching in Mexico in October 2013, scroll down.
March 15-17, 2013 Dream yoga from Kusum Rangshar. Milano, Italy. Contact Luca: lucviolini@yahoo.com
March 29 - April 2, 2013 Second chapter of Gyalwa'i Chagtri. Langen near Frankfurt, Germany. Contact Simone: si.beuerle@gmx.de
April 4-7, 2013 Gyalwa'i Chagtri Vilnius, Lithuania. Contact Ieva: yungdrungbonlit@gmail.com
April 12-14, 2013 Tummo. Helsinki, Finland. Contact Rauno: ryydoja@gmail.com
April 25-28, 2013 Gyalwa'i Chagtri and Red Garuda. Napoli, Italy, Contact Lia: liamait@yahoo.it
May 1-5, 2013 Thodgal according to the Ödsal (clear light) chapter of Gyalwai Chagtri. Dolianova (Cagliari) Sardegna, Italy. Contact Angelo: angeloghiani1@yahoo.it
May 10-12, 2013 First chapter of Gyalwai Chagtri, near Madrid, Spain. Contact Joaquín: joaquinmizquierdo@gmail.com
May 17-19, 2013 Dream yoga according to Kusum Rangshar, Budapest, Hungary. Contact Zoltan: contact@imrezoltan.net
Oct 5-6, 2013, 10:00-18:00, Teaching in Mexico City
Consejos del corazón de las Dakinis
Cerrada de Reforma #121, Col. Tlacopac, San Ángel
México, D.F. 01049
Contact: garudamex@yahoo.com.mx
Organizers, please send announcments of Geshe Gelek's teachings to tinyflame@rediffmail.com
Announcements of bygone teachings for archival purposes: 2010, 2011, 2012.