Bön Calendars for Sale for the Benefit of Triten Norbutse [auf Deutsch hier]
We are preparing calendars for 2018/19. Details to follow soon.
Below is a description of last year's (2017/18) edition.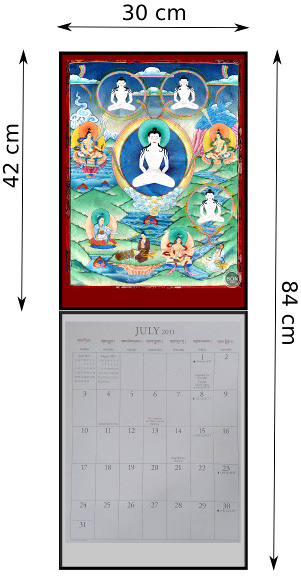 We have for sale Bön calendars for 2017/18 incuding both the Western and Tibetan calendar for the 14 months of Jan. 2017 to Feb. 2018. The calenders are really very attractive and suitable as a present. Features:
Fourteen splendid reproductions of Bön thangkas (A3 format)
Tibetan calendar with all Tibetan and Bön holidays
Western calendar (in German) with Austrian holidays marked
Large (A3 format) calender sheet for each month, big enough to make notes for each day
Proceeds (after deducting cost of printing) go to Triten Norbutse
Price: Euro 40 (incuding shipping in Europe). 25 Euro per Calendar go as a donation to Triten Norbutse. Send email to tinyflame@rediffmail.com to order.