Lama Sangye Mönlam - Lama of Yeshe Sal Ling Deutsch hier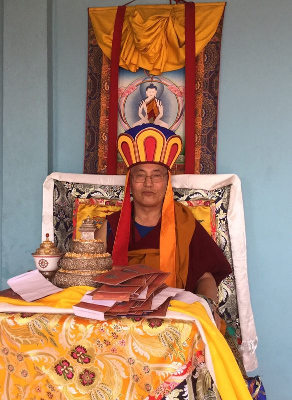 Lama Sangye Mönlam has been enthroned as Lama of Yeshe Sal Ling by Yongdzin Tendzin Namdak Rinpoche and Khenpo Tenpa Yungdrung Rinpoche in a ceremony at Triten Norbutse monastery on the auspicious date -- Tonpa Shenrab day -- of February 10, 2017.
The ceremony was solemn and digified and very joyful at the same time.
Needless to say, everybody in Yeshe Sal Ling is overjoyed by the news. We feel very, very fortunate to have, as Lama of Yeshe Sal Ling, Lama Sangye Mönlam, who is a highly qualified teacher of Dzogchen, Tantra and their auxiliary practices such as Tsa Lung and Trulkhor, and of the rituals of Bön and their ritual music, as well as being a wise and kind-hearted advisor.
Friends and students of Lama Sangye sponsored the ceremony at Triten Norbutse by sending contributions to
Yungdrung Bön Foundation
Deutsche Apotheker- und Ärztebank, München, Germany
IBAN: DE 27 3006 0601 0005 1270 92
BIC: DAAEDEDD

and Association Triten Norbutse
BNP Paribas Paris Gambetta, France
IBAN : FR 76 3000 4017 6300 0100 8856 350
BIC : BNPAFRPPPBU

Altogether, 2593 Euro were raised and the sponsors' names appeared on Triten Norbutse's blackboard (where the details of ongoing ceremonies are announced).
Yeshe Sal Ling is a Yungdrung Bön center in St. Radegund bei Graz, Austria, affiliated with Triten Norbutse monastery.