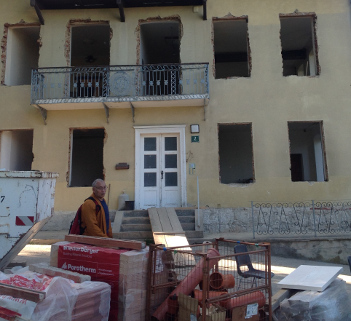 The next opportunity for volunteer work:
From mid-November, 2017 to late January, 2018, and especially December 5-25, 2017, volunteers are needed for cooking and cleaning.
Lama Sangye Mönlam is in residence at Yeshe Sal Ling during this period and volunteers have the opportunity to meditate and perform rituals with the Lama every day.
Also, helpers who do administrative work (from home), such as maintaining a database, are very welcome, and, in particular, a Unix/Linux guru, and a bookkeeper are needed.
Accommodation for volunteers in shared rooms will be provided. There are bathrooms and showers with hot and cold running water, Wifi, and central heating in winter. Accommodation for volunteers is free, but there may be a charge of about Euro 10 per day for food.
Please volunteer your help. Your work is very much appreciated and, indeed, vital for the functioning of Yeshe Sal Ling, which is a non-profit center depending on the help of volunteers. To volunteer, send email to tinyflame@rediffmail.com (Sophie).