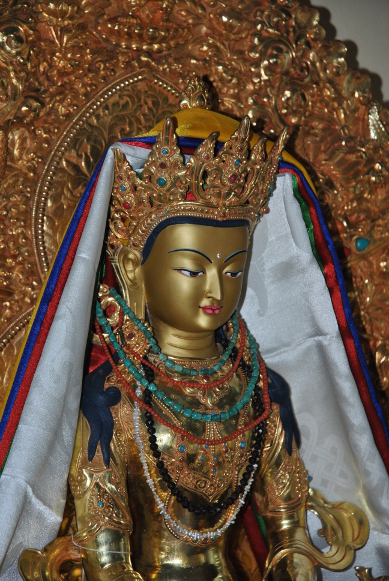 Meditation retreat and torma workshop with Lama Sangye Mönlam
Dec. 26, 2016 - Jan. 8, 2017, Yeshe Sal Ling
This winter at Yeshe Sal Ling, we focus on the essential: progress in meditation. There will be four meditation sessions per day, guided by Lama Sangye Mönlam, each starting with the recitation of Ma Gyud gong choe nam sum (Lama, Yidam and Khandro practice). We will also practice Ma Gyud drib-sel (clearing of obscuractions) and the Ma Gyud five root wind trulkhors. Both practices increase clarity of meditation.
Between sessions Lama Sangye will conduct a torma workshop: teaching us how to make simple tormas for use at tsok, sangchoe, and other rituals. We will use the tormas at a Drenpa Namkha tsok. (Another opportunity to learn how to make tormas will be on Jan 22, during the preparations for the Gutor ritual Jan 23-26.)
This is an opportunity to learn and practice the Ma Gyud melodies and the way the damaru is played in Ma Gyud rituals.
Suitable for beginners, advanced practitioners, and everybody inbetween!
Bring your texts, if you have: 4 generosities, Ma Gyud gong choe nam sum, Ma Gyud drib-sel, Dranpa Namkha tsok. (We do have copies of most of those texts for sale).
Registration: Email to tinyflame@rediffmail.com (Sophie) Due to a retreat, emails will be answered only once a week during Sept-Nov.
Regarding Dates: it is possible to arrive earlier (for instance, to combine the winter retreat with Geshe Gelek's Dzogchen teachings or to stay longer and do a personal retreat. Lama Sangye will be in Yeshe Sal Ling from the end of November 2016 until February 15, 2017.