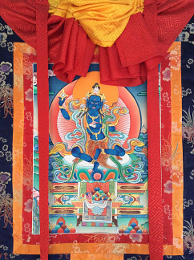 How to perform tsok offerings - for example Drenpa Namkha tsok
By special request, Lama Sangye will explain all the practical details of a Tsok offering, for those of us who want to perform tsok offerings at home, either for a special purpose or as a regular practice.
We will perform Drenpa Namkha tsok, including all the preparations, such as making tormas, together with Lama Sangye. The Lama will explain the correct way of doing each step, and give us the background information needed to perform the offering according to Bön tradition.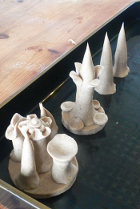 On Saturday morning, we will go shopping for the food offerings. If you want to come along, be at Yeshe Sal Ling at 10:30. If you cannot be there in the morning, you can still come to the teachings starting at 3pm on Saturday. Saturday afternoon Lama Sangye will demonstrate how to make tormas and the actual ``tsok'', and give teachings on their function in the ritual and their symbolism.
On Sunday, Lama Sangye will give a teaching on the Drenpa Namkha tsok text in the morning. In the afternoon, we will recite Drenpa Namkha tsok, accompanied by the Lama's instructions on the right moment and way for offering each torma and other offering.
The text that we will use is a very nice edition of Drenpa Namkha tsok compiled from different sources by Yongdzin Tendzin Namdak Rinpoche and edited by Carol Ermakova and Dima Ermakov, including the Tibetan text as well as phonetics and English translation. We will have this booklet (72 pages) for sale for Euro 17, or you can borrow a copy for use during the weekend.
When we go home, we will be able to perform a complete tsok offering independently at home with confidence.
Beginning: Saturday, Jan 23, 10:30am (shopping) or 3pm (teaching);
End: Sunday, Jan 24, 5pm
Place: Yeshe Sal Ling in St. Radegund near Graz, Austria.
Language: Tibetan interpreted into German or English, according to participants' preference.

Cost: Euro 80 plus a contribution to the cost of the food to be offered - with the usual reductions for the poor and the unemployed, i.e., nobody will be sent away for not being able to pay.

To register, write mail to: yeshesalling@disroot.org (Simon)