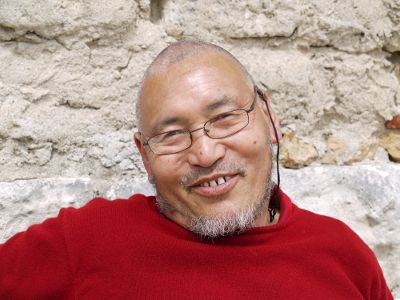 This page is outdated - here is the up-to-date Ma Gyud page

The announcement for 2012 is kept here for archival reasons.

June 30 - July 6, 2012 Lama Sangye Monlam will give teachings, guide meditations and perform rituals (chutor, surchod, chod) together with us for one week in Graz, Austria. The teachings are in Tibetan and will be interpreted into English by Dr. Peter Alan Roberts. (Difficult parts can be translated into German or French on the fly.) For questions, and to register, send mail to Sophie at contact@yeshesalling.org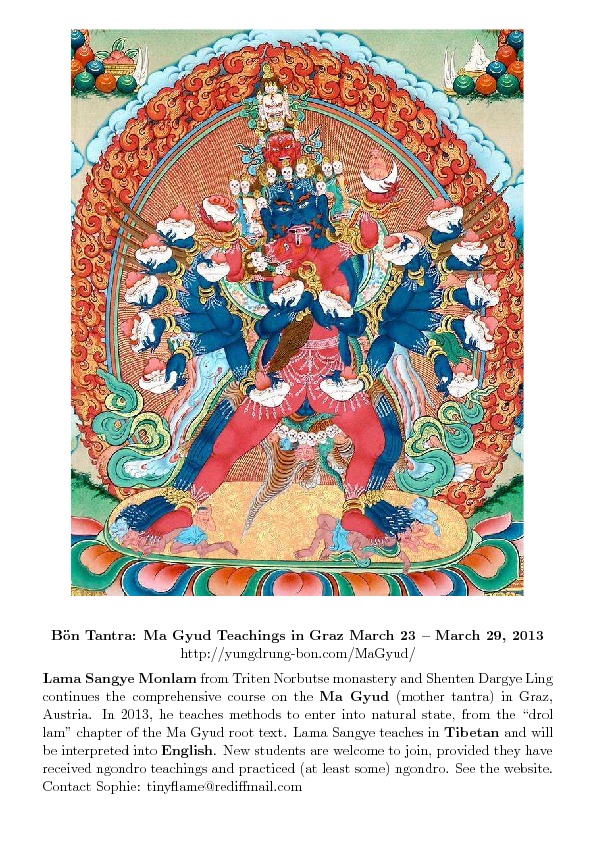 The Program: Content and Schedule of Ma Gyud Teachings 2012

Ma Gyud in Graz 2012 Flyer (PDF 257K) -- (text only flyer here 25K)
Practical information (location, cost) and Accommodation information.
About the Ma Gyud teachings in Graz
Ma Gyud (mother tantra) is the main source of Tsa Lung in the Bön tradition; the source of Tummo, Phowa, Chöd, dream yoga and Bardo practice. As a "high" tantra, the Ma Gyud is very well compatible with Dzogchen. Indeed, techniques from the Ma Gyud are universally used by Bönpo Dzogchenpas for the removal of obstacles, physical, mental or otherwise.
The Ma Gyud teachings in 2012 are the second in a series that started in May 2011. After Geshe Gelek Jinpa and Lama Sangye Monlam had taught Tummo in Graz for a week in 2009, they agreed to come again and offered to give a series of Ma Gyud teachings, one week every year for five years starting in 2011. Three days before the scheduled begin in May 2011, Geshe Gelek was called off to a different job for the benefit of his monastery, and Lama Sangye Monlam graciously agreed to teach alone the full program that Geshe Gelek and he had planned.
In 2011, Lama Sangye taught the Ma Gyud chapters "thar lam", the way of liberation, and "sgom 'brel nyi ma'i dkyil 'khor", the meditation according to the mandala of the sun. He taught us to recite the short and intermediate Ma Gyud sadhana, and read to us the biography of Milu Samleg, the author of the Ma Gyud. His teachings left a deep impression.
In 2012, Lama Sangye will continue the series of Ma Gyud teachings. New students are welcome to join in 2012. In the coming 4 years, Phowa, Chöd, Tummo, dream yoga and Bardo practice will be taught (not necessarily in this order). For 2012, Lama Sangye has announced that he will conclude the ngondro teachings with instructions on the mandala offering and start the teachings on the main practice by "searching for the mind", see the program.
The Ma Gyud teachings in Graz are organized in cooperation with Shenten Dargye Ling by students of Yongdzin Tenzin Namdak Rinpoche, Geshe Gelek Jinpa and Lama Sangye Monlam, of Triten Norbutse monastery.