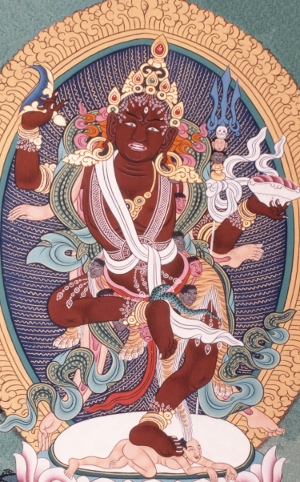 Bön mother tantra: Phowa teachings from the Ma Gyud by Lama Sangye Monlam in Graz, Austria, March 26 - April 1, 2015
Lama Sangye Mönlam continues his comprehensive course on the Ma Gyud (Bön mother tantra) in Graz with a week of Phowa teachings March 26 - April 1, 2015.
The Ma Gyud has a particularly rich and detailled chapter on Phowa - the practice for the moment of death. Even if you are familiar with other Phowa instructions from the Bön tradition, such as Atri Phowa or Rainbow Tent Phowa, you will learn something new when Lama Sangye teaches Phowa based on the Ma Gyud. As in the previous years, Lama Sangye will teach in Tibetan language and will be skillfully interpreted into English by Dr. Peter Alan Roberts.
Prerequisites: New students are welcome to join - having attended Lama Sangye's previous Ma Gyud teachings is helpful, but not a prerequisite. It would be a good thing to have practiced at least some Ngöndro before learnig Phowa.
More details will be added at a later date.
For questions, and to register, send email to tinyflame@rediffmail.com (Sophie).
Further teachings by Lama Sangye Monlam here.
Announcements of Lama Sangye's earlier Ma Gyud teachings (for archival reasons) here: 2012, 2013, 2014.