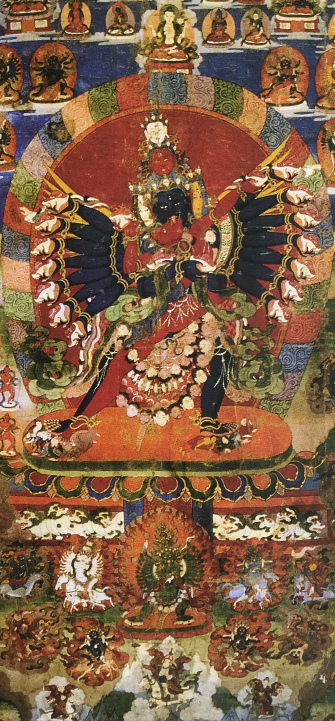 MA GYÜD - Bön mother Tantra
MA GYUD DROL-LAM TEACHINGS
Tantric practices for entering natural state, the shared base of Tantra and Dzogchen, from the Drol-Lam chapter of the Ma Gyüd: Teachings by Lama Sangye Mönlam in Yeshe Sal Ling, St. Radegund bei Graz, Austria
The teachings will be in hybrid format, online (via Zoom) and (for a limited number of participants) in presence in Yeshe Sal Ling. In addition to receiving 2 hours of teachings per day, we will perform the four generosities and two meditation sessions every day, in Yeshe Sal Ling and online via Zoom.
Place: Yeshe Sal Ling, Kurweg 2, 8061 St. Radegund bei Graz, Austria - directions here; and online as a Zoom webinar.
Begin: Monday April 18, 2022, the retreat starts with the teaching at 3pm (UTC+2) [On April 18, the morning practice is not broadcast via Zoom.]
End: Saturday April 23, 2022, teaching ends ca 5pm (UTC+2)
Registration for online sessions directly on Zoom

Registration for participation in person, onsite: mail to contact@yeshesalling.org (Dorothea)
Language: Tibetan, interpreted into English. On-site: German interpretation of difficult parts is possible on request. Online: When you register, send mail to contact@yeshesalling.org as soon as possible, requesting translation into your language; we will try to organize it
Cost: Onsite Euro 290, online Euro 80, for expenses. In addition, donations to the Lama are always a good idea.
Contact for questions: contact@yeshesalling.org (Dorothea)
This part of Lama Sangye Mönlam's comprehensive course of Ma Gyüd teachings covers Drol-Lam, the "way of liberation". The "Drol" of "Drol-Lam" is a more forceful liberation than the "Thar" of "Tharlam", the subject of last year's teachings. One might say, if samsara is a jail, then "Thar" corresponds to a successful jail-break, while "Drol" corresponds to destroying the jail completely and permanently.
The chapter contains detailed instructions for visualization practices that resemble bizarre thought experiments. Their unsettling quality jolts the mind out of its usual rut, and, with luck, we land in a state quite unlike any other, of pure consciousness without any object, clear and empty, and, above all, perfect. This so called natural state is the base that Tantra and Dzogchen have in common, and the important purpose of the Drol-lam chapter is to give an introduction to this state.
As in 2019, Lama Sangye will go through the text of Drol-lam (from Guru Nöntse's terma "the Sun of Compassion") line by line, which is a precious opportunity to immerse oneself in this fascinating text. We are planning to prepare an English translation of the chapters of the Ma Gyüd text in the order that Lama Sangye teaches them. Lama Sangye teaches in Tibetan and will be interpreted into English.
Also, we will refresh and practice the basic Ma Gyüd practice for integrating with the enlightened mind of Lama, Yidam and Khandro (gong choe nam sum - the basic practice that every Ma Gyüd practitioner performs every day). Lama Sangye will also refresh his instructions on the musical part of the recitation (how to play damaru and zhang) and the mudras accompanying the practice.
Prerequisites: Lama Sangye Mönlam's Ma Gyüd teachings are suitable for beginners and new students as well as for advanced practitioners, including those who have already received Ma Gyüd teachings. As most of us have experienced, with profound texts such as the Ma Gyüd, one understands the same teachings on a new level upon every encounter with them, and always learns something new. The teachings in 2022 are the third of a series of teachings that Lama Sangye began in 2018; but new students are welcome to join. Having attended Lama Sangye's Ma Gyüd teachings of 2018 or 2019 is not a prerequisite.
Daily schedule
All times CEST (UTC+2, time zone of Vienna)
Zoom Webinar starts with teaching on Monday, 18 April, 15:00 CEST, and ends on Saturday, 23 April, 17:00 CEST. The daily schedule inbetween is:
| | |
| --- | --- |
| 09:00-09:40 | Sangchö |
| 09:40-10:20 | Meditation |
| 10:20-10:40 | Chutor |
| 15:00-17:00 | Teaching |
| 17:00-17:20 | Surchö (not in Zoom) |
| 19:30-20:30 | Meditation |
| 20:30-20:45 | Chöd |
All times are Vienna time (CEST = UTC + 2 h)
Status of language interpretation availability (as of April 14)
Russian (ру́сски): OK
Spanish (español): Abril 18-21 OK, 22-23 probablemente OK
Hungarian (magyar): OK
Further teachings by Lama Sangye Mönlam here.
Announcements of Lama Sangye's earlier Ma Gyüd teachings (for archival reasons) here: 2012, 2013, 2014, 2015, 2016, 2017, 2018, 2019. (The announcement for 2011 has not been preserved.)