MA GYÜD - Bön mother Tantra - Part 2 of a series of teachings for Shenten - by Lama Sangye Mönlam (online)
In 2021, Lama Sangye will continue to teach from the Tharlam chapter of the Ma Gyud. New students are welcome to attend. Participation in part 1 of the series is not a prerequisite for part 2.
Registration: On Shenten's web page
Begin: Thu June 24, 2021
End: Sun June 27, 2021
Language: Tibetan, interpreted into English and other languages (French, German, ...)
Contact: contact@shenten.org
In 2021, Lama Sangye will teach the second tigle of Tharlam, and part of the third tigle. The teaching will focus on the clearing of obscurations and contain a beautiful ritual for this purpose, drib-sel, in which a special mandala is visualized, and on it the deities of the Ma Gyud as clear crystal. Lama lags will also teach the special melody of this ritual.
Prerequisites: Lama Sangye Mönlam's Ma Gyüd teachings are suitable for beginners and new students as well as for advanced practitioners, including those who have already received Ma Gyüd teachings. As most of us have experienced, with profound texts such as the Ma Gyüd, one understands the same teachings on a new level upon every encounter with them, and always learns something new.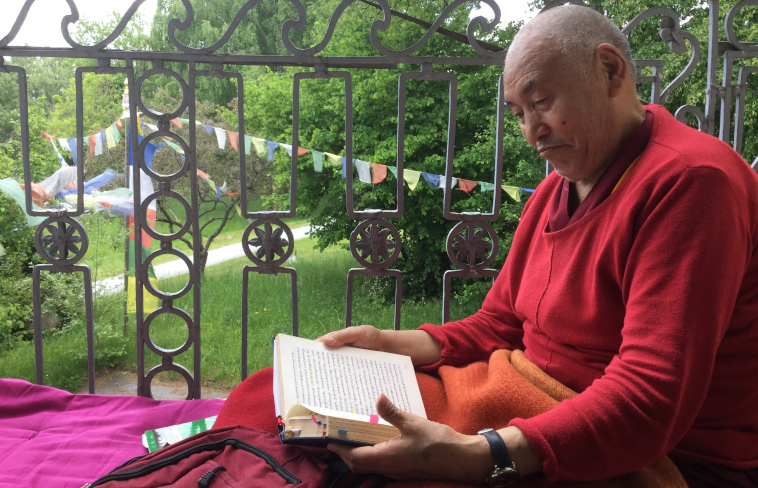 Further teachings by Lama Sangye Mönlam here.
Announcements of Lama Sangye's earlier Ma Gyüd teachings (for archival reasons) here: 2012, 2013, 2014, 2015, 2016, 2017, 2018, 2019, 2020. (The announcement for 2011 has not been preserved.)