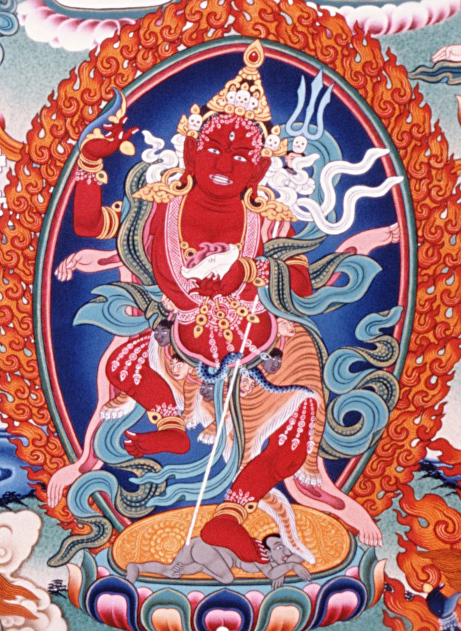 Winter retreat with Lama Sangye Mönlam and Chöd teachings
Dec. 27, 2019 - Jan. 5, 2020, Yeshe Sal Ling
Chöd
This year the winter retreat in Yeshe Sal Ling will focus on Chöd practice. On Dec. 27 and 28, 3-5pm, Lama Sangye will give Chöd teachings and the Lung (reading transmission) for the Chöd text "laughter of the Khandros" by Shardza Rinpoche. Dec 29 - Jan 5 will be dedicated to practice. There will be further opportunities to learn to play Damaru and Zhang under the Lama's guidance, and Chöd every evening as usual (beginners encouraged to take part).
Peace and quiet and meditation
Those who wish to practice meditation during the winter retreat without learning Chöd can do so. We will all practice Sangchoe in the morning together, followed by morning meditation, and in the evening, meditation followed by Chöd. During the Chöd teachings and damaru practice, practitioners who do not play the damaru can do quiet meditation sessions in the library, or go for walks in the woods.
Suitable for beginners, advanced practitioners, and everybody in between!
Bring your texts, if you have: 4 generosities, Ma Gyüd gong choe nam sum, Ma Gyüd drib-sel, Dranpa Namkha tsok. We do have copies of most of those texts for sale. If you need some or all of them, please specify which ones, so that we can print enough copies.
Registration: For registration, send mail to tinyflame@rediffmail.com (Sophie). (Due to a personal retreat, mails will only be answered once a week until the end of November.) If you are planning to stay in Yeshe Sal Ling itself, as opposed to in one of the inns in the vicinity, please also send mail to yeshesalling@disroot.org to reserve a room.
Cost: As in previous years, the winter retreat is a gift of Lama Sangye, meaning, there is nothing to pay except room and board. (Donations to the Lama are always a good idea.)