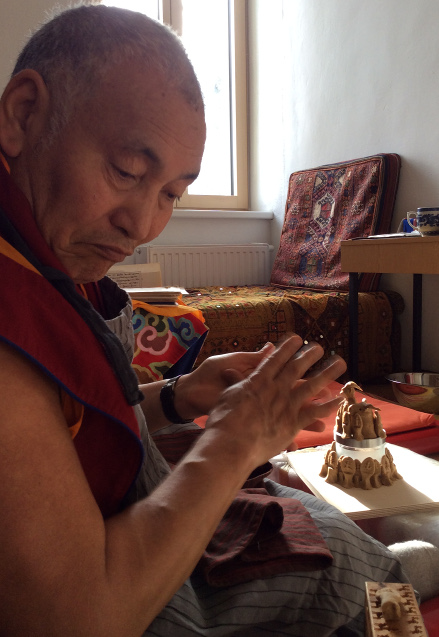 Meditation retreat with Lama Sangye Mönlam
Dec. 26, 2017 - Jan. 8, 2018, Yeshe Sal Ling
This winter, as in the successful winter retreat last year at Yeshe Sal Ling, we again focus on the essential: progress in meditation. There will be four meditation sessions per day, guided by Lama Sangye Mönlam, each starting with the recitation of Ma Gyud gong choe nam sum (Lama, Yidam and Khandro practice). Lama Sangye will teach how to play the Damaru and Shang in this practice, and the mudras accompanying it. We will also practice the four generosities, Sangchö, Chutor, Surchö and Chöd. Lama Sangye will give short teachings on these practices (including the musical aspects, how to play the drum or damaru, etc.) on request.
As usual, Lama Sangye might give impromptu teachings on topics and techniques that he feels we should learn about.
Suitable for beginners, advanced practitioners, and everybody inbetween!
Bring your texts, if you have: 4 generosities, Ma Gyud gong choe nam sum, Ma Gyud drib-sel, Dranpa Namkha tsok. We do have copies of most of those texts for sale. If you need some or all of them, please specify which ones, so that we can print enough copies.
Registration: Email to tinyflame@rediffmail.com (Sophie) Due to a retreat, emails will be answered only once a week during Sept-Nov. If you are planning to stay in Yeshe Sal Ling itself, as opposed to in one of the inns in the vicinity, please send separate email to Simon yeshesalling@disroot.org to reserve a room or a place in a shared room.
Regarding Dates: it is possible to arrive earlier (for instance, to combine the winter retreat with Geshe Gelek's Dzogchen teachings or to stay longer and do a personal retreat. Lama Sangye will be resident in Yeshe Sal Ling from the end of November 2017 throughout winter 2017/18 and Spring 2018 (with the exception of a week in February). Also note that Lama Sangye will perform the "Gutor" ritual of wrathful Sherab Jyamma January 12-15, 2018. Whoever is staying in Yeshe Sal Ling at the time (or drops in) can take part in the preparations and in the culmination of the ritual on January 15.