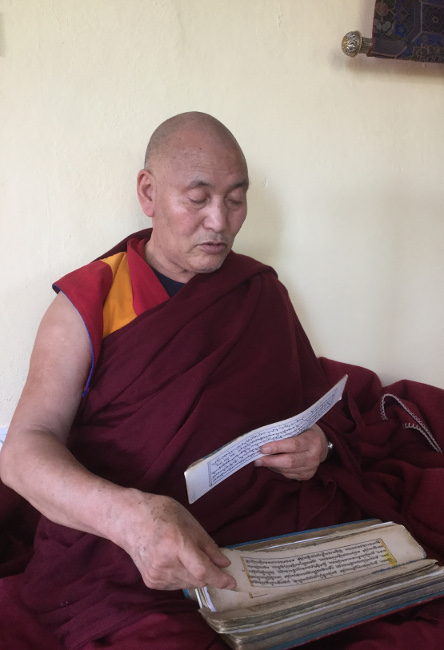 Winter retreat with Lama Sangye Mönlam and Trulkhor teachings
Dec. 26, 2018 - Jan. 8, 2019, Yeshe Sal Ling
In previous years, the winter retreat in Yeshe Sal Ling has focused on quiet meditation practice. Participants who want to practice quietly, can do so. This winter, however, there is also the option of learning and practicing Trulkhor.
Zhang Zhung Nyen Gyüd Trulkhor
Every morning, Lama Sangye Mönlam will teach one of the series of Zhang Zhung Nyen Gyüd Trulkhor according to Shardza Rinpoche's "Yangzab Namkhai Dzödchen", and we will practice the trulkhors together in the afternoon.
There are seven series of about 5-6 Trulkhors each; 39 Trulkhors in all. Each series is meant to be practiced as a whole, from beginning to end, in the given order, as the effects of the different Trulkhors in one series complement each other and make for a harmonious outcome when practiced together.
One important purpose of the Trulkhors is to harmonize the energy that is created by the practitioner using the special Tsa Lung "breath with four branches", whether during Tummo or during dark retreat. The great energy created by the Tsa Lung breath may have side effects that trouble the practitioner, such as headaches or agitation and sleeplessness. Trulkhor prevents or counteracts these side effects, by guiding the energy into its proper channels and bringing it under control of the practitioner. Thus the energy that is first experienced as uncontrollable and disturbing is converted into a force under the practitioner's control.
A second purpose of Trulkhor is to counteract and remove obstacles in meditation, such as drowsiness, lack of clarity, or agitation. For this purpose, they can be used by any serious practitioner. Great physical fitness is not a prerequisite. It is true that some of the seven series of Zhang Zhung Nyen Gyüd trulkhors contain movements that, to perform them correctly, require considerable athletic abilities, but, the Trulkhors confer their benefits also when less fit practitioners perform an approximation of the correct style, to the best of their abilities. The important thing is just to engage with the Trulkhors and perform them to the extent possible; then they will be beneficial.
Peace and quiet and meditation
Those who wish to practice meditation during the winter retreat without learning Trulkhor can do so. We will all practice Sangchoe in the morning together, followed by morning meditation, and in the evening, meditation followed by Choed. During the Trulkhor teachings in the morning, and the Trulkhor practice session in the afternoon, practitioners who do not learn Trulkhor can do quiet meditation sessions in the library, or help with preparations for the stupa, such as cutting mantras or making tsa-tsas, or even go for walks in the woods.
Suitable for beginners, advanced practitioners, and everybody inbetween!
Bring your texts, if you have: 4 generosities, Ma Gyüd gong choe nam sum, Ma Gyüd drib-sel, Dranpa Namkha tsok. We do have copies of most of those texts for sale. If you need some or all of them, please specify which ones, so that we can print enough copies.
Registration: Email to contact@yeshesalling.org (Sophie) If you are planning to stay in Yeshe Sal Ling itself, as opposed to in one of the inns in the vicinity, please send separate email to Simon contact@yeshesalling.org to reserve a room or a place in a shared room.
Cost: In previous years, the winter retreat was always a gift of Lama Sangye, meaning, there was nothing to pay except room and board. In 2018/19, Lama Sangye is offering very extensive (and intensive) teachings: the whole of Zhang Zhung Nyen Guyd Trulkhor, all 7 series with 39 Trulkhors in all. Therefore, participants in secure financial circumstances are welcome to pay something for the course, according to their own valuation. Those in precarious financial circumstances do not have to pay.
Regarding Dates: It is possible to stay longer after the end of the winter retreat and do a personal retreat.