Click here for Geshe Gelek Jinpa's biography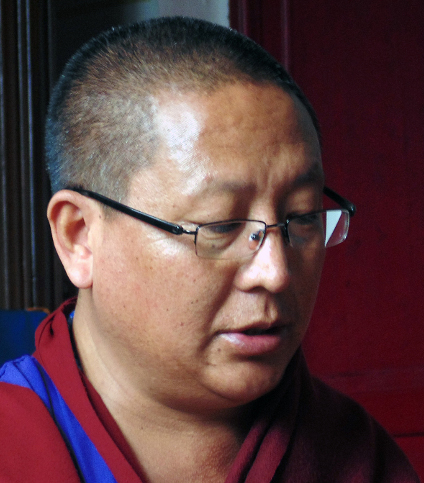 Geshe Gelek Jinpa's Teachings in 2016
Geshe Gelek is a member of the faculty of the dialectic school of Triten Norbutse and Khenpo of Shenten Dargye Ling. In most years he finds time to give Dzogchen teachings (in English) in different places all over the world.
May 12-15, 2016; Galwai Chagtri: beginning of principal practice, fixation of the A. Budapest, Hungary. Contact: jungdrungtengyedude@gmail.com (Eörs)
Sept. 8 - Nov. 15, 2016; Tsa Lung (third part of gomdra) in Shenten Dargye Ling, restricted to participants of the first two parts of gomdra.
Nov. 25 - 27, 2016, Dzogchen teachings (Introduction to the Nature of Mind), Helsinki, Finland.
Nov. 30 - Dec. 4, 2016, Höfen, Baudenbach, Germany: Gyalwai Chagtri, chapter 5 (Integration), Contact: si.beuerle@gmx.de (Simone)
Dec. 9 - 11, 2016, Budapest, Hungary: Gyalwa chaktri chapter 2, Contact: jungdrungtengyedude@gmail.com
Dec. 17 - 18, 2016, Yeshe Sal Ling, Austria, Choza Bönmo's instructions and her song of experience (from the Mo Gyud - the female lineage of Yetri Thasel) Contact: tinyflame@rediffmail.com
Organizers, please send announcements of Geshe Gelek's teachings to tinyflame@rediffmail.com
Announcements of bygone teachings for archival purposes: 2015, 2014, 2013, 2012, 2011, 2010.