Begin: March 26, 9:30; End: April 1, 16h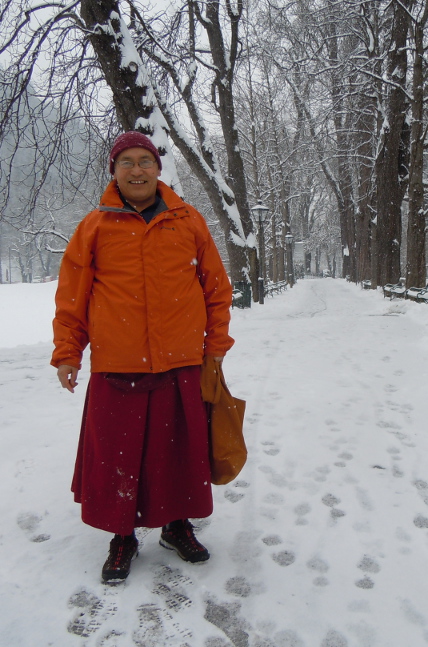 09:30-11:30 Phowa teachings
11:30-12:00 Chutor - water offering
15:00-17:00 Phowa teachings
17:00-17:20 Surchod
17:45-18:45 Meditation
18:45-19:00 Chöd
Practical matters
Arrival: If you have organized your own accommodation, come directly to the center, Kurweg 2, 8016 St. Radegund, Thursday morning at 9:20, or, if you want to help with preparations, come and help the day before.
Arrival of volunteers: If you arrive before March 25, send email to tinyflame@rediffmail.com to arrange for someone to meet you and direct you to alternative accommodation, while the center is being made habitable. More information for volunteers here.
Lunch and dinner catering: March 26 - April 1 we will have a vegetarian curry with rice or chappati for lunch and a bowl of vegetarian soup for dinner catered by a very good Indian restaurant. The cost will be approximately Euro 9 for lunch and Euro 3 for the soup. If you want the catered food, please register for meals by sending email to tinyflame@rediffmail.com before March 20, if possible.
Alternatively, you can eat in one of the inns in St. Radegund or buy groceries at a store in the center of St. Radegund, all in easy walking distance.
Bring a teacup and, if you want the catered Indian food, a bowl and spoon, possibly a drinking glass, preferrably such items as you can leave behind and donate. We don't have any of that in the center yet. If you are lucky, carrying your bowl and spoon and teacup around will make you feel like a Khampa.
Mats for sitting in the gompa: you will need something to sit on during the teachings. Bring a mat. Or, we can procure a meditation mat for you, 80x90 cm, suitable for indoor and outdoor use (red tarpaulin below, blue cotton on top, two layers of wool and one layer of pressed coconut fiber in between), for 60 Euro. These mats are specially ordered and are very comfortable. If you buy one, you can take it with you after the end of the retreat, or, you can leave it in the center and use it next time you come, while allowing others to use it when you're not there.
Cushions (croissant-shaped, square, round, big, small) for sitting, as well as warm socks and blankets, can be bought in Graz at Vega Nova, Klosterwiesgasse 1, just off Jakominiplatz (the central tram and bus hub where bus 250 leaves for St. Radegund), Mon-Fri 10-18, Sat 10-14, and at GEA, Griesgasse 4, Mon-Fri 10-18, Sat 10-17, (streetcars 1,3,4,5,6 stop Südtiroler Platz, Kunsthaus).
Weather: It might rain or it might snow end of March. In fact, it did snow during Lama Sangye's Ma Gyud teachings in Graz end of March 2013, see photo. Bring appropriate shoes and clothing.