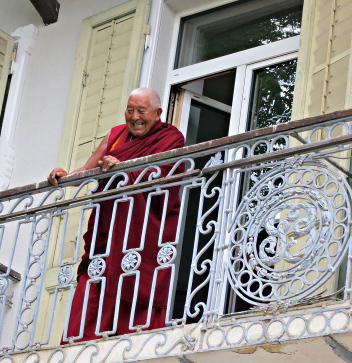 Teachings and retreats in Yeshe Sal Ling in 2019
Spring 2019
Whenever a Lama is in residence or visiting, drop in and join us for morning and evening meditation:
7:30-8:00am Sangch&ouml
8:00-9:00am Meditation
19:30-20:30 Meditation
20:30-20:45 Chöd
In Spring 2019, Ashak Geshe Lungrig is visiting until May 2. Tsultrim Tendzin from Triten Norbutse will be visiting in May and June. Lama Sangye Mönlam is in residence throughout the Stupa construction period; April to June in any case.
Longer personal retreats, including dark retreats (in the colder season) under guidance and supervision of a Lama are possible. For information, send mail to contact@yeshesalling.org (Sophie) If you are interested in a longer dark retreat at a specific time, please inquire at least several months in advance.
Volunteering - painting, cooking or cleaning in exchange for accommodation and teachings - is possible at certain timess. In Spring 2019, we need helpers for constructing a stupa in particular. Send mail to contact@yeshesalling.org (Sophie) for possible dates and other details.
If you have a special wish or need for teachings on a particular subject, send a message to contact@yeshesalling.org and your wish will be communicated to Lama Sangye, who might then teach or organize a teaching on the subject, maybe in the following year.