We have built a Stupa! There will be a celebration July 1-4 2022. (Stupa construction photos here)
Click here for the schedule of teachings and events.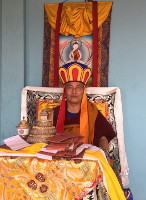 Yeshe Sal Ling is a Yungdrung Bön center in St. Radegund bei Graz, Austria
affiliated with Triten Norbutse monastery in Kathmandu
inaugurated in 2015 by Yongdzin Tendzin Namdak Rinpoche and Khenpo Tenpa Yungdrung Rinpoche
under the spiritual guidance of Lama Sangye Mönlam.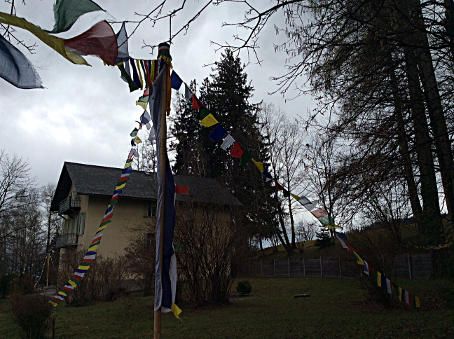 Schedule - Location - Directions - Volunteering - Support - Accommodation - Photos
For opportunities to learn more about Yeshe Sal Ling, to get involved in its organization, and to volunteer your help and receive teachings in return, have a look at the schedule of teachings and volunteer work or send email to contact@yeshesalling.org for details.
Mission statement of Yeshe Sal Ling Bön center
Yeshe Sal Ling is a non-profit center dedicated to learning, teaching, preservation and research of the Yungdrung Bön tradition: a place for authentic teachings by qualified Bön Lamas on the nine vehicles of Bön, according to the texts of Kanjur and Tenjur and great Lamas' commentaries, and a place for practice retreats, including dark retreats, supervised by Lamas.

A certain emphasis on Dzogchen is suggested by the name "place of wisdom and clarity" given by Yongdzin Tendzin Namdak Rinpoche. Also, since the beginning, there is a strong connection to the Ma Gyud (mother tantra) through Lama Sangye's teachings.

The long-term plan is to establish a comprehensive Bön library. A start has been made: Kanjur and Tenjur have arrived, as well as the collected works of Shardza Tashi Gyaltsen, Yongdzin Tendzin Namdak Rinpoche and other Lamas.

Directions to Yeshe Sal Ling - Directions to St. Radegund bei Graz - Accommodation in and near Yeshe Sal Ling